We're building the world's first internet controlled 1:43 scale RC track letting any race real cars over the internet and compete with other players. In this BUILD thread, you can see the latest updates on the project.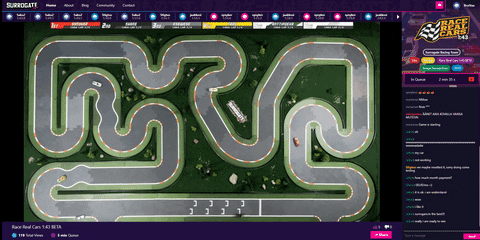 We've made a schedule for the race track opening hours. Here's how it look based on the GMT+3 timezone:
To see the schedule based on your location, visit the
game page
and scroll down.
What's done:
SurroRTG - Surrogate's low latency video streaming technology designed for interactive real-time experiences. Allowing people to control robotics thousands of miles away, as if they are playing a video game.

Selected the cars - After testing multiple micro RC options, we ended up going with Siku Racing 1:43 scale RC cars. Thank you r/rccars for all of your suggestions! see the video

Designed the track - Mainly Siku Racing track pieces and Carrera track decorations see the post

Lap and checkpoint tracking see the post

Design the self-charging mechanism see the post

Figure out a way to control RC using a computer see the post

Decide on the batteries for fast charging - see the post

Camera selected - GoPro Hero 7 Black - see the post

AI for the cars to drive themselves around the track

Lot's of custom coding
The game is now complete check out the build video
Play the game here - https://www.surrogate.tv/game/racerealcars143
Check out our build video
We look forward to hearing your thoughts, ideas, and suggestions.
SurrogateTV Team